SITES TO VISIT
There are many sites throughout the Midwest and West associated with the life of William F. "Buffalo Bill" Cody. You can track his life from his birth in Iowa, through his association with Kansas and Nebraska to his death and burial in Colorado. The trail of his exploits flows throughout the western states with particular emphasis in Cody, Wyoming, "his town."
Here is a list of those sites highlighted on the Internet. Take the time some day to visit them in person.

The Iowa Sites - These are located near the river town of Le Claire, Iowa, were he was born.
St. Joseph, MO - This is where the Pony Express started and there is a monument and museum here.
Leavenworth, KS - Cody lived here during his early years after his family moved from Iowa and Missouri.
Kansas Forts - A list of forts and posts in Kansas many of which were visited by Cody.
Summit Spring Battle site - This is located near Sterling, CO. The battle brought Cody to the attention of the country.
The Historic Sheridan Inn - Cody's "home away from home" in Sheridan, Wyoming.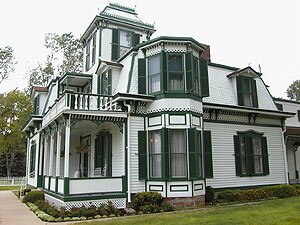 Scout's Rest Ranch- Here in Nebraska Cody and his family and friends spent most of the winters.
The High Jinks Mine - This poor mine, located at Oracle, AZ, was the final financial blow to Cody.

Lookout Mountain- Cody's grave looks down on Denver and nearby is a museum that tells the story of his life.
Family Graves - Several members of Cody's children were buried in Rochester, NY. Part of this paper (in PDF format) talks about those graves.
Buffalo Bill Historical Center- The Buffalo Bill Museum in Cody, Wyoming, is the most complete depository for items related to the life and times of Buffalo Bill. Associated with it are more specialized museum dealing with various aspects of the West.
OTHER SITES
Cody Country- Information on Cody, Wyoming, the town founded by Buffalo Bill and the sites in that area.
Cody Photos - Photos of Cody, the town and Yellowstone from Wyoming Tales and trails.
Irma Hotel - Information on the hotel that Cody built in Wyoming.
Buffalo Bill Dam Visitor Center - Visit the dam named for Cody not far from Cody, Wyoming on the Shoshone River has exhibits on the construction of the dam, the highest in the world when it was completed in 1910.
Buffalo Bill State Park - This park surrounds the lake formed by the Buffalo Bill Dam.
Buffalo Bill Cody Scenic Byway - Details of a planned scenic route in the Cody, Wyoming area.
Fort Cody - Not actually a military fort, this commercial venture serves a visitor's first contact when he stops to see the Scout's Rest Ranch in North Platte, Nebraska.
Pahaska Teepee - An early hunting lodge built by Cody and still in operation today.
Oakley, Kansas -The Oakley, KS web site which calls itself Birthplace of the Legend because it was near here where Cody earned his title of "Buffalo Bill."