If you want to learn more about Buffalo Bill Cody try these books:
Annie Oakley and Buffalo Bill's Wild West, Isabelle S. Sayers, Dover Publications, 1981.
Annie Oakley: Legends of the West, John F. Wukovits, Chelsea House Publisheers, 1997.
Buckskins,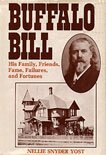 Bullets and Business: A History of Buffalo Bill's Wild West Show, Sarah J. Blackstone, Greenwood Press, 1986.
Buffalo Bill and the Wild West, Henry Blackman Sell & Victor Weybright, Oxford University Press, 1955.
Buffalo Bill From Prairie to Palace, John M. Burke, Rand McNally, 1893.
Buffalo Bill in Bologna: The Americanization of the World, 1869-1922, Robert W. Rydell and Rob Kroes, University of Chicago Press, 2005.
Buffalo Bill: His Family, Friends, Fame, Failures and Fortunes, Nellie Snyder Yost, Swallow Press, 1980.
Buffalo Bill: King of the Old West, Elizabeth Jane Leonard and Julia Cody Goodman, Literary Publishers, 1955.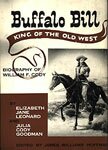 Buffalo Bill's Great Wild West Show, Walter Havighurst, Random House, 1957.
Buffalo Bill's Wild West: An American Legend, R. L. Wilson with Greg Martin, Random House, 1998.
Buffalo Bill's Wild West: Celebrity, Memory and Popular History, Joy S. Kasson, Hill and Wang, 2000.
Buffalo Bill: Myth and Reality, Eric Sorg, Ancient City Press, 1998.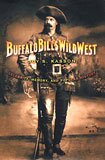 Buffalo Bill, The legend, the Man of Action,and the Showman, Rupert Croft Cooke and W. S. Meadmor, Sidgwick and Jackson, Ltd., 1952.
Buffalo Bill and His Wild West: A Pictorial Biography, Joseph G. Rosa and Robin May, University Press of Kansas, 1989.
Buffalo Bill, Actor: A Chronicle of Cody's Theatrical Career, Sandra K. Sagala, Heritage Books, 2002.
Buffalo Bill and Sitting Bull: Inventing the Wild West, Bobby Bridger, University of Texas, 2002.
Buffalo Bill, Michael E. Goodman, The Creative Company, 2005.
Buffalo Bill Cody, John Hamilton, ABDO Publishing Company, 1996.
Buffalo Bill's America: William Cody and the Wild West Show, Louis S. Warren, Alfred A. Knopf, 2005.
Buffalo Gals: Women of Buffalo Bill's Wild West Show, Chris Enss, Globe Pequot Press, 2005.
Bulls-Eye: A Photobiography of Annie Oakley, Sue H. Macy, National Geographic Society, 2001.
The Business of Being Buffalo Bill: Selected Letters of William F. Cody, 1879-1917, Sarah J. Blackstone, Greenwood Publishing Group, 1988.
The Colonel and Little Missie: Buffalo Bill, Annie Oakley, and the Beginnings of Superstardom in America, Larry McMurtry, Simon & Schuster, 2005.
Custer, Cody and the Last Indian Wars: A Pictorial History, Jay Kimmel, CoryStevens Publishing, 1994.
The Diamond's Ace: Scotland and the Native Americans, Tom F. Cunningham, Mainstream Publishing, 2001
Doctor, Lawyer, Indian Chief: The Life of White Beaver Powell, Buffalo Bill's Blood Brother, Eric V. Sorg, Eskin Press, 2003.
Four Years in Europe with Buffalo Bill, Charles E. Griffin, Stage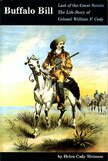 Publishing Co., 1908.
From Cody to the World: The First Seventy-Five Years of the Buffalo Bill Memorial Association, Richard A. Bartlett, Buffalo Bill Historical Center, 1992.
The Frontier in American Culture, Richard White, Patricia Nelson Limerick, James R. Grossman, Newberry Li, University of California Press, 1994.
Heartsong of Charging Elk, James Welch, Doubleday Publishing, 2000.
Hostiles?: The Lakota Ghost Dance and Buffalo Bill's Wild West, Sam A. Maddra, University of Oklahoma Press, 2006.
The Lady Rode Bucking Horses: The Story of Fanny Sperry Steele, Woman of the West, Dee Marvine, Globe Pequot Press, 2005.
Last of the Great Scouts: The Life Story of Buffalo Bill, Helen Cody Wetmore & Jane Gray, Grosset & Dunlap, 1918.
The Lives and Legends of Buffalo Bill, Don Russell, University of Oklahoma Press, 1960.
Making of Buffalo Bill: A Study in Heroics, Richard J. Walsh in collaboration with Milton S. Salsbury, Bobbs-Merrill, 1928.
Memories of Buffalo Bill, Louisa Frederici Cody in collaboration with Courtney Ryley Cooper, D. Appleton and Co., 1920.
Orphans Preferred: The Twisted Truth and Lasting Legend of the Pony Express, Christopher Corbett, Broadway Books, 2004.
Performing the American Frontier, 1870-1906, Roger A. Hall, Don B. Wilmeth, Cambridge University Press, 2001.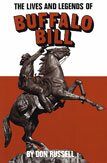 Story of the Wild West and Campfire Chats, William F. Cody, Charles C. Thompson Co., 1888.
Stories of Great American Scouts, John Jay Jones, Kessinger Publishing Company, 2004.
The Sweetwater Run: The story of Buffalo Bill Cody and the Pony Express, Andrew Glass, Doubleday, 1996.
Thrilling and Truthful History of the Pony Express, William Lightfoot Visscher, Rand-McNally, 1908.
U.S. Army Frontier Scouts, 1840-1921, Ron Field, Anita Hitchings, Richard Hook, Osprey Publishing Limited, 2003.
The Wild West: A History of the Wild West Shows, Don Russell, Amon Carter Museum of Western Art, 1970.
Wild West Shows and the Images of American Indians, 1883-1933, L.G. Moses, University of New Mexico Press, 1996.
Wild West Shows, Paul Reddin, University of Illinois Press, 1999.
Buffalo Bill Book List - A list of books about Cody and his times sold at the Buffalo Bill Museum in Golden, Colorado.
COLLECTIBLES Top
Some of the Buffalo Bill items offered for sale on the Internet include: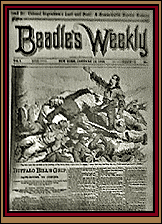 BUFFALO BILL COWGIRL MOVIE POSTER - Cowgirl poster from movie for sale.
Comic Books - Lists several comic art books featuring Buffalo Bill.
Cody Collectibles - Ordering information on Amazon.com for a collector's guide to Cody items.
Miniature Wild West Show - A set of cast figures from the Wild West Show.
Police Badge - This page gives information about a gold-plated police badge which was reportedly given to Buffalo Bill by Theodore Roosevelt.
Cabinet Card - Described is a cabinet card dated between 1869 and 1900 which shows Cody in a National Guard uniform.
TODAY'S CONNECTIONS Top
The name of Buffalo Bill and/or his image continues to pop up in various places even today. Consider the following links:
Buffalo Bill's Wild West - America's Family Show - Promotion of the "new" Wild West Show.
Cody Impersonator - Story from the Sheridan Star-Tribune about a resident who impersonates Buffalo Bill.
- Article about Michael Martin Murphey who is trying to do what Buffalo Bill did for the west.
?