THE PONY EXPRESS top
Young Cody is remembered as one of the youngest riders for the amazing Pony Express which helped open up communications in the West. That effort has been immortalized in words and images.
People, Places, Vocabulary- Details on the Pony Express including Buffalo Bill rides.
Pony Express Station - Home page of Pony Express Station.
The Pony Express - Good history of Pony Express.
Those Who Also Rode - Mentions the memoirs of several men who were part of the Pony Express who are said to have known Buffalo Bill.
HIS SCOUTING EXPLOITS top
Famous Hunting Parties of the Plains - Read online a Cosmopolitan article written by Cody in 1894. Click the thumbnail drawing to begin. (3/19/01)
Buffalo Bill's Duel With Yellowhand - The painting by Charles M. Russell.
Meeting of Frontiers - A book, viewable online, about the visit of Grand Duke Alexis to this country and Cody's role in the big buffalo hunt.
Cody as a gunfighter - Report on Cody from "Gunfighters of the Western Frontier".
The Medal of Honor - Cody's Congressional Medal of Honor is shown here with the note that the medal was revoked but later reinstated.
The Battle of Summit Springs - History of the battle near Sterling, Colorado, which helped cement Cody's reputation.
Biographies of military men - This site contains biographies of many of the military men such as Custer and Sheridan who Cody served.
BUFFALO BILL AND THE INDIANS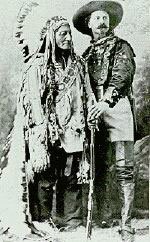 top

Buffalo Bill and Native Americans - A paper on Buffalo Bill's relationships with, and effect upon, Indians written by David Burrell.
Cody at Wounded Knee - This photo shows Cody meeting with Indians and government officials following the massacre at Wounded Knee. It's from the PBS "The West" collection.
THE WEST - Episode 8 - The Gift - Episode on Chief Joseph including photo with Buffalo Bill.
Sitting Bull - Summary of the life and chronology of the man who appeared at one time with the Wild West Show.
Contradictory Legacies of Buffalo Bill Cody's First Scalp for Custer - Article in Montana: The Magazine of Western History discusses contradictions in some Cody stories.
IN OTHER WARS top
Col. Cody, the Rough Riders and the Spanish American War - An article on Cody's participation or non-participation in the war.