SCARCE REPUBLICANS (1860)

For the first time in the history of the county, straight Republican votes were cast in Greene county, to the great disgust and indignation of politicians of all of the other parties. The Republican party had a State organization this year, and as stated had put a ticket in the field. It had also nominated a full set of Presidential electors, the candidate in this district being Hon. John M. Richardson, a former Secretary of State, and a leading Benton Democrat. Mr. Richardson was at the head of his party in this part of Missouri, and to him the few members, scattered here and there, went for counsel, guidance, and instruction.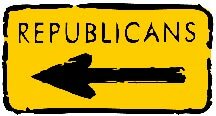 The Republicans in Southwestern Missouri in 1860 were few in number and widely scattered. Greene county contained about 50 of them, but only a few knew it until after the election. Republicanism was in bad order among the people of this section in that day, and its professors did not go about with a brass band and proclaim their principles to everybody. They held meetings, it is true, but they were for the most part convened in secret, and the proceedings were not published in the daily papers

In shady nooks, among the dells of the Ozarks, in cabins isolated from other human habitations, were the places, and at nights, when other men slept, wore the times, when the Republicans of Southwest Missouri met in 1860, and struck bands to support Abraham Lincoln for the Presidency. They knew each other. There was a system of hailing signs and grips, as among the Know Nothings, by which one Republican recognized another, whether he lived in Benton, or Polk, or Greene, or Stone county. A few of these were Northern men who had moved into Missouri, but the majority were originally from Kentucky and Tennessee, and, reared amidst slavery, they had grown to dislike it, and to be opposed to its further extension.
(History of Greene County, Westerm Historical Company, 1883)
[BACK]