THE CYCLONE OF 1880
Sunday evening, April 18, 1880, a violent and very destructive cyclone visited Southwest Missouri, destroying not only thousands of dollars' worth of property, but scores of human lives. The town of Marshfield was prostrated and more than 40 persons killed. A dozen more lives were lost in other parts of Webster county. The people of Springfield, the physicians and many ladies went up to the stricken city as soon as they heard of the fearful calamity that had befallen it, and ministered to the victims for several days.

In Barry, Stone, and Christian counties, the same storm did considerable damage, and a great many persons were injured. There seemed to be two cyclones, one of which went through the northern part of Christian and eastward through Texas county, and the other, which was seemingly organized near Ozark, passed up the James, through this county, and on to Marshfield.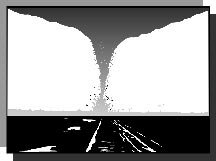 The house of J. L. McCraw, sr., in Taylor township, had the roof blown off, and on the same farm 120 acres of valuable timber was blown down, 200 hearing fruit trees destroyed, fences blown away, and other property injured. The house of J. L. McCraw, jr., was blown down and some stock killed.

Volney Galbraith's house was blown down. Mrs. E. Turner's house was unroofed and her farm generally devastated. The houses of W. A. Gault, and his son-in-law, N. Ellis, were blown down and several farm animals killed. Mr. Gault had his shoulder mashed and several of his ribs broken. Mrs. Gault's leg was broken. Three or four children were hurt.

Other results of the cyclone were more serious. The residence of Thom. Kershner was blown down, his farm devastated, he and his wife were badly hurt, and his little son was killed. Maj. Galloway's house, in Clay township was prostrated, the farm damaged, and Mrs. Galloway was killed. T. J. Scott's house, in Clay township, was blown to pieces, his son Walter and his daughter Mary were both killed outright; he was mortally injured, dying afterwards; his daughter "Donny" lost a leg. Miss Nichols, residing at Kershner's, was injured.

Mrs. Elizabeth R. Thompson, widow of James M. Thompson (who was murdered in October, 1864), was killed. She and ten other persons were at her home, in Clay township. The cyclone blew out the side of the house, letting the upper floor above fall on her. The other inmates were saved by the upper floor being held up by a bedstead on the opposite side of the room from the position occupied by Mrs. Thompson. Her son Abner lived in the house with her at the time, hut neither he nor the other inmates were seriously hurt.

S. N. Ingram's mill, on the James, was blown down. James Roberts had an arm broken. The widow Simpson's farm was ruined. A Mr. Lee (known as "Sheep" Lee), who lived on the Hampton place, lost 1000 bushels of wheat, which was scattered over the country, and 3,000 pounds of bacon, which was distributed over considerable territory, and Mr.Lee himself was badly injured.

Other incidents of the fearful force and destructive effects of the storm are omitted for want of space. There are few more notable events in the history of Greene county than that of the great cyclone of 1880.
(History of Greene County, Westerm Historical Company, 1883)
[BACK]