Mandrogi

Mandrogi, located in the middle of the final locks leading to St. Petersburg, is really more of a tourist attraction than a live-in village. It too features a collection of old wooden houses but almost everything on the island is directed toward visitors.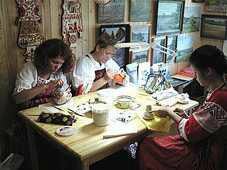 In a main building in Mandrogi, many crafts people are always working making matrushkas, lace, ceramics, and other souvenir type items.

This is a display of some of the ceramic masks made and sold by crafts people at Mandrogi.



One of the features here is the Vodka Museum which features hundreds of different brands and kinds of the favorite Russian drink.

There are, of course, plenty of photo opportunities here as well such as the vodka loving bear.
A very real bear cub was a center of attraction at Mandrogi as his owner paraded him around town offering people a chance to have their photo taken with a real live bear.
A highlight of a visit to Mandrogi is a big Russian barbecue with shiskabob and all the trimmings. It is topped off by a pasty party where one can eat all the fresh baked Russian pastries he or she can hold.

Like all of the other stops in Russia musicians were very much in sight. These wandering musicians entertained with typical Russian folk music during the barbecue.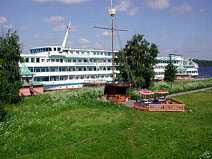 From here one could get a good long view of the boat that travels carried us through the inland waterway, the Vladimar Majkovski. It is small and comfortable with a capacity of about 250 people.

<<<Back to Map