Kostroma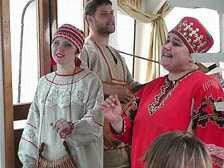 At almost every stop along our Russian inland waterway cruise we were welcomed by musicians. They ranged from folk singers to jazz bands. These folk singers entertained us in Kostroma as we took a ferry from where our boat docked across to another part of the town which is separated by a river.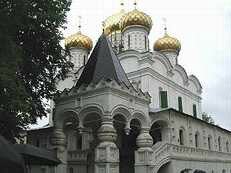 Kostroma is a city of about about 286,000 people, hardly a small Russian village. One of the major tourist attractions in the city is the Holy Trinity Cathedral in the Ipatiev Monastery. Like many of the ancient buildings in the country, it is being renovated. Many of these structures were ignored during the Communist regime.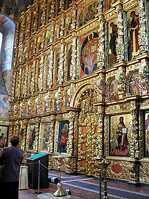 The inside of the cathedral contains wall-to-wall religious icons, many finished in gold leaf. Murals tell stories from the Russian Orthodox religion.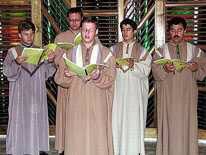 At most of the cathedrals that tourists visit, and there are many, musical groups perform. Money raised by the groups through donations go to assist with restoration of the structure which seems to be a continual process.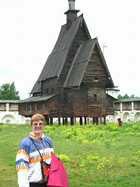 Brought to the monastery and reconstructed is this old wooden structure which is representative of early churches in Russia. A few are still scattered around the countryside and may still be used for worship.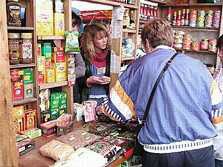 One of the fun things to do in Kostroma is wander through its large open air market where one can buy fresh fruits and vegetables, cigarettes and candy, breads and biscuits, and household products. It's the Russian version of a "mini-mall." Most items were very reasonably priced for tourists, given the currency exchange rate, but still very expensive for Russians.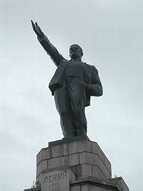 Kostroma is one of many Russian city's who have left statues of Lenin stand and did not tear them down when Communist fell. A Russian said Lenin is a part of their history and they didn't want to destroy that. There were no references to Joseph Stalin - known as a butcher - seen anywhere in the river communities.

<<<Return to map