Buffalo Bill Cody and Wild Bill Hickok in Springfield
by Richard Grosenbaugh
Since I have become aware of my heritage and become more involved in the International Cody Family Association I have become very interested in finding out more about Buffalo Bill Cody, our famous ancestor. It amazes me how the Great Scout keeps popping up close to me, even here in Springfield, Missouri.
One day while in the library researching something else I looked for "Buffalo Bill" in the newspaper archives. What I found was that, for a short period in his life, my famous ancestor had ties to Springfield. In exploring this, I found out more about Wild Bill Hickok and his friendship with Cody.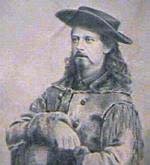 An article in the January 11, 1917, edition of the Springfield Daily Leader, reporting on Cody's death in Denver, talks about his local connection. It says:
"The famous Indian fighter, guide, scout and frontiersman spent many weeks during the war and had been here many times since."
It quotes Cody as saying: "Springfield has always had a place in my heart" when he last appeared here in 1915 with the Sells-Floto Circus.

It quotes from an October article in Hearsts' Magazine in which Buffalo Bill talks about his service in Springfield during the Civil War under General McNeil "where we had several lively skirmishes, and one big and serious engagement before the war was ended. "Cody is quoted as saying:
"The spring of 1865 found us again in Springfield, where we remained about two months recuperating and replenishing our stock. I now got a furlough of 30 days, and went to St. Louis, where I invested part of a $1000 I had saved in fashionable clothes and rooms at one of the best hotels. It was while there that I met a young lady of a southern family to whom I paid a great deal of attention, and from whom I finally extracted a promise that if I would come back to St. Louis at the end of the war she would marry me."
The marriage to Louisa Frederici came about a year later after an expedition to New Mexico.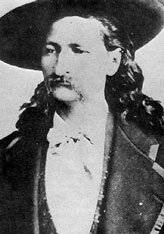 Cody's visits to Springfield thereafter came primarily because of his relationship with Wild Bill Hickok. He had met Hickok, ten years Cody's senior, early in his carrier as a Pony Express rider and wagon train employee. Hickok also fought with the Union and was a participant in the Battle of Wilsons Creek near Springfield in 1861, the first large battle west of the Mississippi.
After the war, Hickok lived in Springfield during several periods of his life. The most noted event of that residence was when he show Dave Tutt on the square after a dispute about a poker bet.

An article in the Springfield Missouri Republican in January 28, 1920 talks about the Cody-Hickok connection in an article lamenting the closing the K& K Emporium where both men apparently drank. The article says:
"Buffalo Bill and Wild Bill Hickok were perhaps two of the most historic characters who ever visited the local saloon. Colonel Cody was a lifelong friend of [J.M.] Kirby's. having been closely associated with him during the Civil War. Several years later after Mr. Kirby's death Buffalo Bill, who was then in show business, walked into the saloon, then owned by Kelley and Kerr, and asked for Mr. Kirby. When informed of his friend's death the old plainsman showed signs of extreme grief and for more than an hour he related to Mr. Kerr early day experiences in which the scout and Kirby had been associated. A few weeks later, Mr. Kerr received two enlarged pictures, one of Colonel Cody and the other of Wild Bill Hickok. The pictures were hung on the wall of the saloon and were the subject of much comment from persons who visited the place."

"Several times during the last years of his public career Colonel Cody visited Springfield and each time he called at the K&K pausing long enough to stand before the picture of Wild Bill and drink a toast to that daring plainsman with whom he was closely associated during his western campaigns."
Another article in the June 11, 1921 edition of the Republican shows an old photos of several old-timers apparently taken here (not the one at right) explaining:
"Back some span of years, Springfield was some frontier village. And more than an once men with frequently notched revolvers foregathered here. In fact three men who figured somewhat in the building of the West were wont to foregather, at more or less regular intervals, in Springfield to hold a little reunion and jollification all their own

Most widely know of those was Buffalo Bill, less widely known as Colonel William F. Cody. The others, one of whom was especially known in Springfield, were Wild Bill Hickok and Texas Pete."
In his book The West of Wild Bill Hickok, Joseph Rosa, says:
"In June [1865] the Union army prepared for demobilization. Among the first to go were the scouts and other civilian employees. By the end of the month Hickok was unemployed. He became a well-known figure on the streets of Springfield. For almost a month he occupied his time by gambling, and he and his companion, Davis Tutt, were a familiar sight, each armed with two revolvers."
Rosa goes on to tell about the infamous Hickok-Tutt shoot-out in August of that year.
"Still in Springfield in September, he ran in the election for town marshal and came in second of five candidates. In January , 1866, he witnessed a shooting and was called to give evidence. By then he was bored with Springfield, and he washed no time obeying a request from his old friend and employer Captain Richard Bentley Owen to report to him at Fort Riley, Kansas"
It was in Springfield that George Ward Nichols interviewed Hickok for an 1867 article in Harpers New Monthly Magazine which did a great deal to start him on the road to becoming a legend.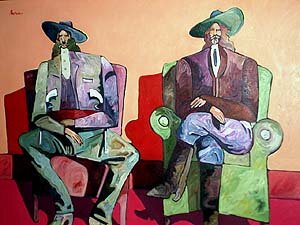 Buffalo Bill Cody and Hickok came together again in 1873 when Cody talked him into coming into the theater with him, a partnership that lasted for only a short time. One source indicates that Hickok was living in Springfield at the time, after several years of turmoil as a lawman in Kansas. (The painting at left of the two is in the Whitney Art Museum at the Buffalo Bill Historical Center in Cody, Wyoming).
Cody was also here with his Wild West Show. Another newspaper article says a crossroads east of town was named Cody Corners because it was where the Wild West Show camped out during a visit here.