Rembering Ronald Reagan
My memory of the late Ronald Reagan is from 1976 when he visited the city as Governor of California.
I was Director of Public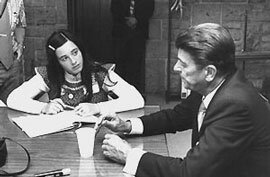 Information for the Springfield Public Schools. Because of previous experience in the news media I went along with student news reporters as they interviewed Reagan.
What I remember most about that event was how cordial the future president was to the student journalists. Quite often young journalists were not given the same attention as their professional counterparts. That was not the case this day as Governor Reagan visited with the students for quite some time.
As I remember, I wrote a note to the Governor thanking him for being so hospitable and got a note of acknowledgment back. It would be interesting to know what the young lady who interviewed Ronald Reagan on that day is remembering as well.
On that day, at least, he was truly the "Great Communicator."