Over the years, many youngsters in the Ozarks found a friend and companion in Wayne Grisham.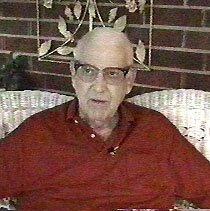 Younger children spent some time each day with him after school as television personality Captain Briney. Older young people benefited from his teaching in the Strafford Public Schools.
I was lucky to interview Grisham about his career shortly before his death in 1998.
Grisham started in radio in Springfield about the same time he enrolled in Southwest Missouri State College. In the late 1950's he went to work as an assistant farm director at KWTO, working with Loyd Evans and other early radio personalities.
After three years in radio, Grisham had an unusual opportunity presented to him by Kevin McAndrews of KTTS-TV which went on the air in 1953. The station wanted a children's program, using Popeye cartoons, and asked Grisham to come up with an idea. Captain Briney was born shortly thereafter and he was soon on the air after school entertaining and educating young people.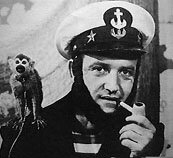 Of course a sea captain had to have a pet on his shoulder. At first it was a parrot but he didn't last long because he kept falling off the Captain's shoulder and grabbing onto various parts of his face. Then First Mate Salty, a tiny squirrel monkey, came on the scene and remained a feature of the program throughout its run.
Grisham said that Salty was good with children but would balk when they teased him. "We were at a prominent club having a Christmas party," Grisham remembers, "and this little boy was poking at him all the time, at his nose. He (Salty) hiked up his leg and he hit that kid right smack in the eye, I mean hit it square in the center. I moved because I didn't know whether Mom or Dad saw me or not."
It was a busy time for Grisham. He was going to school at SMS, teaching at Strafford during the day prior to getting his degree, doing the Briney show and working at KTTS-TV at night. Luckily, he said, the management at the station let him work on school-related things during his shift.

After several years of work at Missouri University, Grisham left with a Master's degree in geology and other work that qualified him to teach in the areas of science, social studies and history. He continued to teach at Strafford for 25 years retiring in the late 1980's.
The Briney show ran from 1956 to 1969. Its demise came with the addition of KMTC as the city's third television station. Picking up the ABC network, the new station had access to the ABC cartoons that had been used on the KTTS-TV show.
Grisham has lots of memories of the broadcasting people he had an opportunity to work with: McAndrews, Evans, Pearson Ward, Ralph Foster, Joe Slattery, Bill Ring, and Bill Bailey to name a few. He also helped with the Ozark Jubilee show, featuring Red Foley, telecast live from Springfield each week.
He has good memories of his time on television and said some "old-timers" still recognize him as Captain Briney. "Really it was a snap for me," Grisham said, "because I loved it too. I was going to school and after school what I'd learned that day, I'd come right back here over to KTTS and teach a little of it that night to the kids. I'd break it down, showing them pictures of animals and stuff, showing them pictures of rocks, showing them pictures of different rock formations."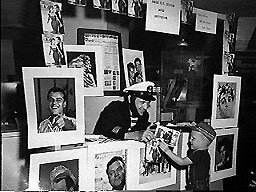 What advice would he have for youngsters today?
"We have an awful lot of problems because of fatherless or motherless children in school. I tell Children to get you a friend and don't let your peers run you entirely. Have your pick of your peers. If you don't have a mother or a dad pick out a good friend who can serve as one." As to attitude: "Nobody owes you anything," Grisham said. "It's your attitude of whatever you get, you can do anything. Go after it and don't crawl in a corner and say 'I can't do that.' If you see something, go after it. Don't be afraid to tackle it. What if it fails? We've had more failures in this old lifetime than we've had goodies. I've had a lot of failures down the line too. Work at it. Put your heart in it."
From talking with Wayne Grisham you could understand why many people in the Ozarks today will always remember him as Captain Briney, their after school companion and friend. Still others will recall him as "Mr. Grisham", their teacher and friend.