My name is Richard (or Dick) Grosenbaugh. I'm a native of Wooster, Ohio, and a graduate of the journalism school at Ohio University.
In January of 1960, with degree in hand, a climbed aboard a Greyhound bus and came to Springfield, Missouri, to explore an opening in the news department at KYTV. I liked Springfield and have been here ever since.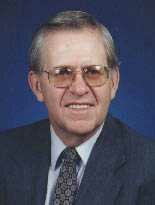 From 1960 to 1965 I was a reporter at KYTV. In 1965 I became News Director.
In 1968, Superintendent of Schools Willard Graff asked me to become Administrative Assistant for Public Information in the Springfield Public Schools. For the next 25 years I served in that position under three different superintendents.
For the last two years of my service with the schools I was in charge of educational technology for the district. This involved working with cable television, satellite broadcasts, video production and other audiovisual areas. I had been an avid user of computers for many years and became interested in the Internet and web pages when pressed into service to develop the district's first web site.
In 1980, working with the Sesquicentennial Committee, I produced a pictorial history of Springfield entitled "A Million Hours of Memories." Just recently I served on the committee at the History Museum of Springfield and Greene County to produce an expanded, updated history called "Crossroads at the Spring."
Since retiring in 1995 I have used my computer and web page skills for both profit and community service. I've done sites for the Regional Consortium for Education and Technology and the Community Task Force. I've been a paid Internet consultant for the International Association of Fairs and Expositions headquartered in Springfield and maintained their comprehensive web site.
The things you find on this web site are from the jobs or projects with which I have been connected over the years. I thought it would be fun to share with you. I've also thrown in photos of interesting places around the globe which I have been privileged to visit.